9 min
Flooding rains, tornadoes, bitter cold, record warmth, gale force winds, and snowstorms can all occur in November in the Great Lakes region, sometimes within days of each other.
Wikipedia: Witch of November
The Witch of November, or November Witch, refers to the strong winds that frequently blow across the Great Lakes in autumn. The "witches" are caused by intense low atmospheric pressure over the Great Lakes pulling cold Canadian/Arctic air from the north or northwest and warm Gulf air from the south. When these cold and warm air masses collide, they can result in hurricane force winds that stir up large waves on the Lakes.

(The following info has been culled from posts that I've made elsewhere.)
On Nov 17, 2013, a cluster of severe thunderstorms rumbled through northwest Ohio, dropping tornadoes in some areas. Our temps that afternoon reached into the low to mid 60s.
Nov 17, 2013 tornado report.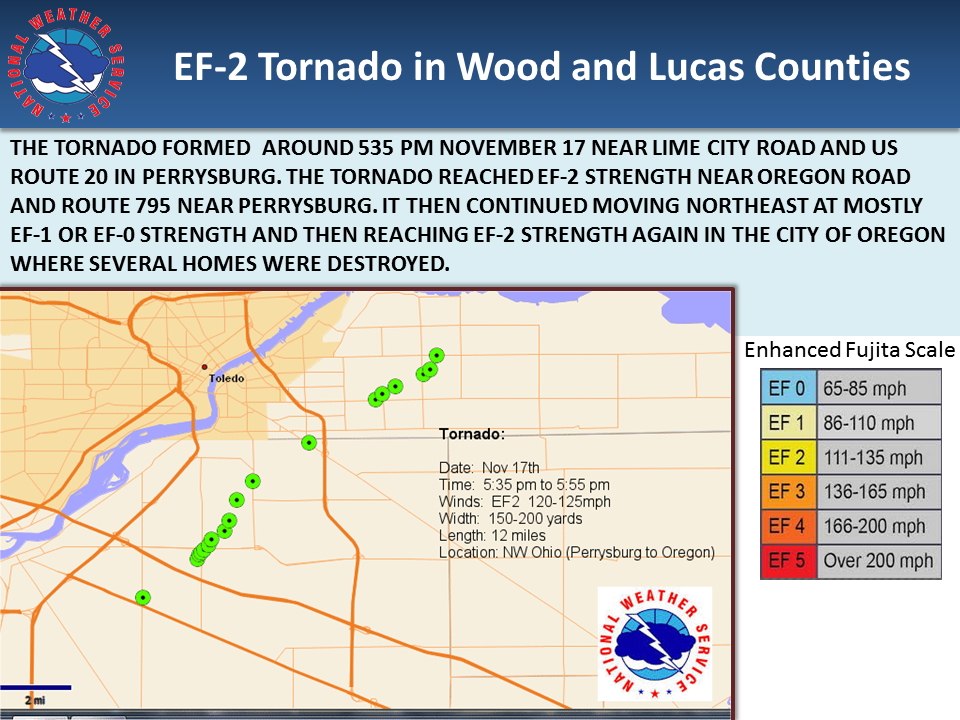 Nov 19, 2013 Toledo Blade story
Five tornadoes plowed through six counties in northwest Ohio on Sunday, sparing lives but leveling a church, homes, and businesses.
The NWS confirmed that a tornado with peak winds up to 125 mph struck parts of Perrysburg and Lake townships, Northwood, and Oregon starting at 5:35 p.m. during the strong thunderstorm Sunday evening. Other tornadoes were reported in Wood County's Jerry City, outside of Elmore in Ottawa County, near the Paulding County and Van Wert County line, and a fifth that touched down in southeast Paulding County and traveled to Cloverdale in west central Putnam County.
The preliminary report from the weather service office in Cleveland said the twister in suburban Toledo formed near Lime City Road and U.S. 20 in Perrysburg Township and reached a strength of EF-2 on the Enhanced Fujita Scale near Oregon Road and State Rt. 795, where a convenience store was damaged.
The tornado continued northeast at weaker strengths before regaining EF-2 strength in Oregon, where several houses were destroyed.
Overall, the tornado traveled 12 miles in a period of about 20 minutes before dissipating near Corduroy and Wynn roads in Oregon.
An EF-2 tornado with winds of up to 130 mph traveled about eight miles, touching down about a fourth of a mile south of the intersection of Route 66 and County Line Road in southeast Paulding County and lifting about five miles northeast of Cloverdale in west central Putnam County.
Just a few minutes before, an EF-1 tornado was confirmed touching down just south of Elm Sugar and Doner roads in Van Wert County and lifting just south of the Paulding County/​Van Wert County lines near the intersection of Converse Roselm and Kidner roads. That storm reportedly produced winds of up to 100 mph and traveled about two miles.
The weather service also confirmed that an EF-1 tornado touched down at 5:35 p.m. and traveled east and northeast for about a mile along Jerry City Road in southern Wood County, damaging several houses. The tornado's path began near Huffman and Jerry City roads, just east of the village of Jerry City, and ended on Cloverdale Road north of Jerry City Road, with peak winds estimated between 105 and 110 mph.
Another tornado, an EF-1, touched down near Yeasting Road and State Rt. 590 about three miles east of Elmore in Ottawa County at 6 p.m. It was on the ground for less than a mile.

Outside of the Toledo area but within the Great Lakes region, here's an example of the weather extremes in November.
Gaylord, Michigan is located near the top of the lower peninsula of Michigan. Gaylord is the county seat of Otsego County.
On Sun, Nov 17, 2013, a small tornado, EF-0, touched down in Otsego County.
On Fri, Nov 22, 2013, nearby Antrim County in Michigan was under a Lake Effect Snow Watch.
Lake effect snow accumulations of 5 to 10 inches by Sunday morning with localized accumulations exceeding 12 inches possible. Gusty northwest winds will produce some blowing snow and single digit wind chill readings.

The Veterans Day Weekend tornado outbreak that impacted parts of northwest Ohio occurred on November 10, 2002.
An F4 tornado hit Van Wert, Ohio, killing two people. Here's a November 2012 Toledo Blade story about the 10-year anniversary of the Van Wert tornado.
20 tornado touchdowns were recorded in Ohio on Nov 10, 2002. Here are the ones reported closer to Toledo.
Intensity
Location
County
Time
Path Length
Damage
F1
E of Cygnet
Wood
4:54 pm
4.5 miles
F2
N of Fostoria
Hancock, Seneca
4:57 pm
9 miles
F0
SE of Perrysburg
Wood
5:10 pm
0.1 mile
F3
SE of Tiffin
Seneca
5:15 pm
21 miles
1 death
F1
NW of Millbury
Wood
5:19 pm
0.5 mile
F1
Fremont
Sandusky
5:20 pm
3.5 miles
F2
Port Clinton
Ottawa
5:30 pm
10 miles
F1
W of Norwalk
Huron
5:42 pm
7.5 miles
(Prior to 2007, the National Weather Service used the Fujita scale to rate tornadoes. Now they use the Enhanced Fujita scale. )

While November tornadoes in Ohio are rare, November has historically been known for its volatile weather in the Great Lakes Region. Like March or April, the weather in November can change drastically. Here's a Nov 23, 2002 Toledo Blade story titled Surprise snow closes schools.
The first significant snowfall of the winter season dumped up to a half-foot in some parts of the area. In tornado-stricken Van Wert County itself, Rick McCoy, director of the emergency management agency, called off tornado cleanup for the day, saying the work would resume on Monday. Fostoria scrambled as well to re-equip trucks for snow plowing after having taken plows off for cleanup of its Nov. 10 tornado damage.

Toledo is not located within the Great Lakes snowbelt. Sometimes, we receive snow squalls that emanate from Lake Michigan or Lake Huron, but the accumulations don't amount to much. But the lake effect snowstorm events can be amazingly impressive for the snowbelt areas.
The lakes are relatively warm in November, so when an Arctic front brings strong winds and temps in the teens or colder, then the snowbelt areas can get smothered by one to three feet of snow or more.
Wikipedia: Snowbelt.
Map showing the snowbelts around the Great Lakes of North America with 150 cm (60 in) accumulations or more during winter

Toledo Express Airport averages around 35 inches of snowfall for a season, which ranges from July 1 to June 30. Parts of Ohio's snowbelt, which is located in northeast Ohio, receives over 100 inches of snowfall per year.

University of Illinois : Veteran's Day Lake Effect Snow Storm of November 9-14, 1996 :
At the height of the storm, over 160,000 customers were without power in Greater Cleveland alone, as the storm produced isolated snowfall tallies approaching 70".

Weather Almanac : Lake Effect Snow Storm Named 'Chestnut'
On November 20-23, 2000, the Buffalo, New York area was hit with a 60-hour lake-effect snowstorm. During the period, the storm dumped up to 31 inches in Stockton. According to the Buffalo NWS office: "[the storm] was a classic and severe lake effect storm." The storm had frequent lightning as snow showers blossomed into heavy thunder snowpellet showers . Snow falling at the rate of 2-4 inches per hour for several hours.

NOAA : Hell Hath' No Fury Like a Great Lakes Fall Storm :
Anyone living in the Great Lakes Region for an extended period of time can become all too familiar with the incredible storms, or low pressure areas, that can settle over the Great Lakes Region in the fall. November, being the prime month for such monsters to start materializing, has had more than its share of super storms. As Polar outbreaks become more regular and intense, surging south into the area, they meet up with the warmer, moisture laden airfrom the Gulf of Mexico. Add to this a roaring jet stream with lots of energy and you have the ingredients for dynamic storm development.

Weather Almanac : The Winds of November
Here over the largest bodies of fresh water in the world, two storm tracks converge in November. One brings storms south from Alberta, the precursors to the Alberta Clipper blizzards. The second track shoots storms from the lee of the Rockies near Colorado toward the Great Lakes region. When these storms cross the region, the waters of the Great Lakes often put an even more deadly spin on the cyclonic systems.
Many great storms have been borne over the Lakes during November of the Mothers Superior, Michigan, and Huron, and their toll on Great Lakes shipping has long been the subject of story and song. In his classic ballad, The Wreck of the Edmund Fitzgerald, folksinger Gordon Lightfoot sang of the "bones to be chewed when the gales of November blow early." At least 25 killer storms have greeted November sailors on the five Lakes since 1847. The storms of November have brought death to more sailors on the Great Lakes than any other agent.
The Great Lakes play a major role in determining the climate and weather of their region. The reason for their large influence lies in their waters. Water, you see, gains or losses heat much slower than air or land surfaces. Thus, the large volumes of water in the Great Lakes cool so slowly that the water temperatures of all the Great Lakes are out of step with the seasons by several months.
As autumn progresses, the lake waters still retain much of their summer warmth. When the first cold, northern air masses move out of the arctic and across the Lakes, they are warmed by the waters below. This added heat tempers the arctic outbreak thus postponing the first frosts along the southern and eastern lake shores by several weeks. The fruit belts of Ontario, Michigan and upper New York State are made possible by this moderating influence on autumnal cold air outbreaks.
But by late September, the contrast between the cold, dry air moving down from the Canadian North and the warm, moist air flowing up from the Gulf of Mexico can cause great storm systems to form along the polar front. These storms move along several storm tracks of which two cross the Great Lakes basin in November. As these storms move across the Lakes, they receive heat energy from the warm waters below, which provides additional fuel to run the storm engine.
When a developed or developing storm system moves across the relatively warm waters, it can intensify with explosive speed. The resulting storms produce hurricane-force winds reaching 160 km/h (100 mph), large waves that at times exceed 15 m (50 ft) in height, and heavy precipitation over the water and along the shoreline. A few of these storms stall over the Great Lakes basin, voraciously feeding and growing on the warm-water energy below them. While spinning in place, such storms may ravage the Lakes and surrounding shoreline for days.